Duplex Browser
Submitted by
danoise
on September 30, 2010 - 21:15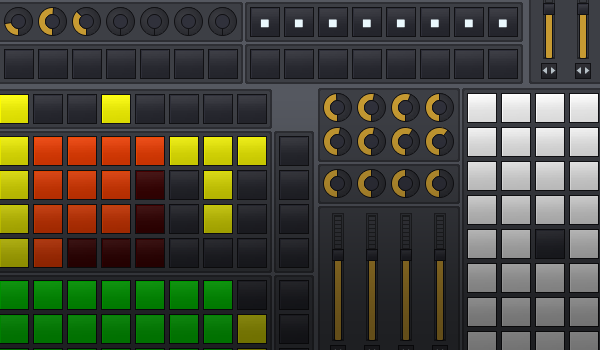 Description
Duplex is a collection of scripts that control various aspects of Renoise with plug-and-play support for a wide range of hardware. The applications range from controlling basic aspects of the Renoise application (like Mixer, DSP chains, Pattern Matrix), to more adventurous applications like sequencers and performance tools.
What makes Duplex special is the strong focus on bi-directional communication. In practice, this will ensure that your controller is always in sync with Renoise, no matter what you do.
Demo video: Playing with Loops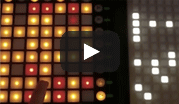 Note: Duplex is an optional add-on, you can use any MIDI/OSC capable controller with Renoise without having to go through Duplex.
As a script author, using the Duplex framework can assist in creating programs that are adaptable for a wide range of hardware. It greatly simplifies tasks like creating sliders from buttons, or setting the LED lights on your controller using standard RGB values, and in addition it will automatically perform background tasks such as optimizing outgoing communication (to make controllers more responsive), etc.
Duplex is a standard Renoise tool (xrnx), can be downloaded from tools.renoise.com, and installed by dragging the file onto the Renoise application. Since Duplex is written entirely using the Renoise API, anyone can extend and modify it. The official version, however, is maintained by the Renoise team.
Basic usage
When installed, a new menu will appear, containing a large number of presets with names like "Launchpad Mixer + Matrix", or "Simple TouchOSC template". Each of these configurations represent a mix of different programs that we have found to be useful. Select one of them, and the Duplex Browser dialog will appear. From here, you can turn that configuration on/off, and switch between devices & configurations. This window also contain a unique feature in Duplex, a 'virtual' representation of the hardware using native Renoise UI components.
Bundled applications
- Mlrx (inspired by mlr: the loop/sample sequencer, more info)
- Matrix (control the Renoise matrix + patt. sequence, tutorial video on youtube)
- Mixer (control volume, panning, mute and solo state of all tracks)
- Effect (control all device parameters, or filter them by various criteria)
- StepSequencer (realtime step sequencer for grid controllers, more info)
- Keyboard (Renoise keyboard replacement, more info)
- Transport (control the basic Renoise transport: play/stop/loop/etc.)
- Navigator (control block-loop offset/size and playback position)
- TrackSelector (provides methods for navigating between tracks)
- Recorder (live performance looper/recorder, see manual for more info)
- NotesOnWheels (hybrid phrase arpeggiator/sequencer, more info, manual)
- SwitchConfiguration (switch between configurations from your device)
- Grid Pie (live performance tool, more info)
- XYPad (dedicated control of any native XYPad device, more info)
- Repeater (takes control of any native Repeater DSP, more info)
- Hydra (takes control of any native Hydra device, similarly to the XYPad and Repeater applications)
- Rotate (shift pattern/track contents in realtime)
Supported devices
See the full list of controllers here
Release history
0.81: initial release
0.82: improved nocturn configuration, fixed minor issue with Transport
0.83: select MIDI input and output3 ports visually
0.93: OSC device/protocol, MIDI channel support and other features
0.94: Implemented API changes in Renoise 2.6b7
0.96: Updated for Renoise 2.7, new Akai devices supported
0.97: Improvements to Effect, Recorder + TrackSelector (new app)
0.98: Renoise 2.8 support + new applications
0.99: Renoise 3.0 support + new applications
See the full changelog here
Beta versions
To try out the newest version of Duplex, go to this location (Renoise community)
Documentation
For the most part, the Duplex front-end is self-documenting - mouse over any part of the interface to get help and additional information about what each buttons/control does. Also, download the manual (english, japanese) to have some of the most common questions answered
- For information on how to write your own applications, look here (Renoise community) or dive in to the Duplex framework documention here
- If you own a non-supported controller, your can read this introduction on how to write a control-map.
- Remember that you are never on your own - post any questions you might have in the scripting forum.
Discussion
Downloads
Installation: Drop the Tool File (.xrnx) on a Renoise window to install.
Liability exclusion: "You are about to download and install software from a third-party provider. This software was not developed by Renoise and is listed here in a summarised form purely as a convenience for our users. Renoise takes no responsibility for any malfunction, incompatibility, or damage caused by or otherwise arising from the use of the software. In the case of problems with the installation or use of the software, please contact the relevant developer."
Haftungsausschluss: "Sie sind dabei, eine Anwendung (Software) von einem Drittanbieter herunterzuladen oder zu installieren. Diese Software stammt nicht von Renoise und wird hier lediglich als Service für den Benutzer zusammenfassend übersichtlich dargestellt. Renoise haftet nicht für Fehlfunktionen, Beschädigungen, Inkompatibilitäten oder sonstige Schäden, die von dieser Software ausgehen oder sonst verursacht werden. Sollten während der Installation oder Benutzung der Software Probleme auftreten, wenden Sie sich bitte an den jeweiligen Hersteller."