Advanced Step Composer
Submitted by
Raul
on December 27, 2021 - 11:24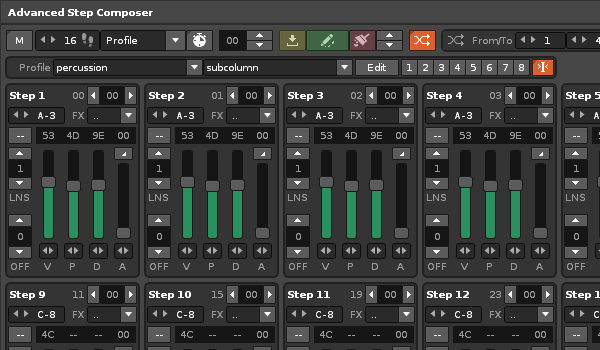 Description
Advanced Step Composer or A.S.C. is a stepper note injector, with an acidic sequencer approach. It is an evolution of the Acid Step Sequencer tool. Choose a number of steps between 2 and 32. You can manipulate the notes and all their related values. Use the Master Step ("M" swith) for manipulation in selective groups or each step individually. You will be able to import, edit and delete data. Experiment with your notes quickly from a advanced sequencer panel. Use the power of randomization to get more creative in no time. Or use profiles! This tool will add hours of fun building your patterns!
Main features
Up to 32 steps.
Line jump (click inside the "Step X" name).
Marker (with green lighting).
Individual editing of each step.
Master step for group editing (red step).
Ability to auto-adjust the "number of lines of the pattern" from the LNS Value of the Master Step (press [CTRL + Click] from increase or decrease the LNS Value).
Direct control of: note, instrument index, volume, panning, delay, sfx parameter and sfx amount values.
Manipulation the number of lines for the steps.
Manipulation of the note-off for the steps.
Four selection modes: all, odd, even or custom (with 32-step panel with various selection modes).
Selective transposition of notes.
Randomization of values (all), with range capacity and number of steps.
Injection of the effect and quantity in lower empty lines.
Selective cleaning.
Slider bars with "set to 0" (double click).
Data import/load.
Safe! It need Renoise "edit mode" enabled to edit.
Work with Profiles!
More information in the dedicated forum...
Downloads
Installation: Drop the Tool File (.xrnx) on a Renoise window to install.
Liability exclusion: "You are about to download and install software from a third-party provider. This software was not developed by Renoise and is listed here in a summarised form purely as a convenience for our users. Renoise takes no responsibility for any malfunction, incompatibility, or damage caused by or otherwise arising from the use of the software. In the case of problems with the installation or use of the software, please contact the relevant developer."
Haftungsausschluss: "Sie sind dabei, eine Anwendung (Software) von einem Drittanbieter herunterzuladen oder zu installieren. Diese Software stammt nicht von Renoise und wird hier lediglich als Service für den Benutzer zusammenfassend übersichtlich dargestellt. Renoise haftet nicht für Fehlfunktionen, Beschädigungen, Inkompatibilitäten oder sonstige Schäden, die von dieser Software ausgehen oder sonst verursacht werden. Sollten während der Installation oder Benutzung der Software Probleme auftreten, wenden Sie sich bitte an den jeweiligen Hersteller."