Grande Utopia Analyzer
Submitted by
Airmann
on October 22, 2014 - 23:07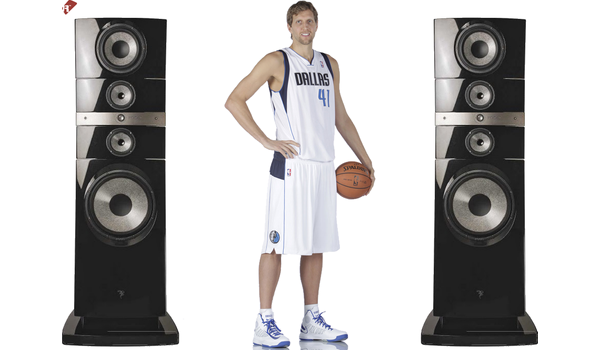 Description
This is a funky signal analyzer which simulates the famous Focal Grande Utopia EM Hifi speakers.
The analyzer listens to the left and right audio channels on the master track, and moves the various speaker cones including tweeter according to the audio stream's frequency content. While it's primarily a fun tool, the analyzer should display the frequency content correctly (approximatively): Sub from 20..80Hz, bass from 80..220Hz, mids from 220..2200Hz, tweeter from 2200..18200Hz.
If one clicks on Dirk Nowitzki, a little fact sheet is shown.
Further, the analyzer can be persistently be enabled / disabled via tools menu and hotkeys.
IMPORTANT HINT: works also for Renoise 3.0.0, but only in mono mode, because of a bug in the signal follower device. This bug was fixed in latest Renoise 3.0.1 release.
Discussion
Downloads
Installation: Drop the Tool File (.xrnx) on a Renoise window to install.
Liability exclusion: "You are about to download and install software from a third-party provider. This software was not developed by Renoise and is listed here in a summarised form purely as a convenience for our users. Renoise takes no responsibility for any malfunction, incompatibility, or damage caused by or otherwise arising from the use of the software. In the case of problems with the installation or use of the software, please contact the relevant developer."
Haftungsausschluss: "Sie sind dabei, eine Anwendung (Software) von einem Drittanbieter herunterzuladen oder zu installieren. Diese Software stammt nicht von Renoise und wird hier lediglich als Service für den Benutzer zusammenfassend übersichtlich dargestellt. Renoise haftet nicht für Fehlfunktionen, Beschädigungen, Inkompatibilitäten oder sonstige Schäden, die von dieser Software ausgehen oder sonst verursacht werden. Sollten während der Installation oder Benutzung der Software Probleme auftreten, wenden Sie sich bitte an den jeweiligen Hersteller."