ReSynth
Submitted by
mxb
on July 26, 2011 - 14:27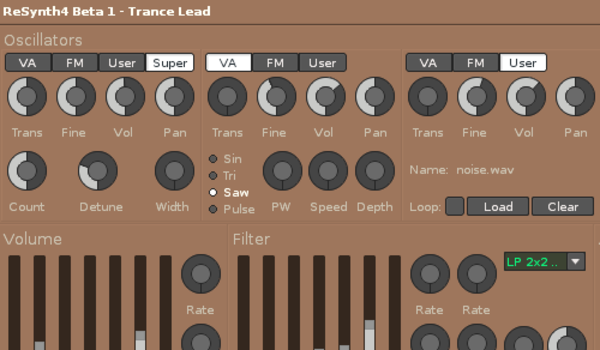 Description
ReSynth is a cross-platform native pseudo-realtime synthesizer tool for Renoise.
ReSynth4 contains the following features:
Four oscillator slots
Independant oscillator controls for:

Transpose
Fine tuning
Volume
Panning

Selectable oscillator types:

Virtual analog

Waveform selector - sin / tri / saw / pulse wave
Pulse width control
Pulse width modulation with speed and depth controls

FM Synthesis

Three operators in series
Frequency multiplier per operator
3 point envelope per operator

User waveform

Load in your own samples and use the simple common operator controls (transpose, fine tune etc.)
Selectable loop toggle

SuperSaw (oscillator 1 only)

Saw wave count (from 1 to 7)
Supersaw detuning
Supersaw wave width

Much improved oscillator quality (44khz, 32bit from 33khz, 8bit)
AHDBDSR volume envelope
Volume LFO (tremelo) rate and depth controls
AHDBDSR filter cutoff envelope
Filter type selector
Filter resonance control
Filter cutoff lfo rate and depth controls
Filter resonance lfo rate and depth controls
Velocity to filter cutoff depth control
Programmable arpeggiator:

Variable sequence length (up to 16 steps)
Variable sequence speed (ticks per step)
Independant pitch per step
Steps can be retriggers (green) or legato (yellow).
Selected step is blue (dark or light respectively).
Independant assigns to volume/pitch envelopes and filter envelope
Steps will always affect the pitch
ReSynth supports real-time modification while playing:
Ensure the ReSynth window is open for the desired instrument
Playing live while modifying the ReSynth controls will not stop any currently played notes. This is with the exception of changing oscillator type (this will mute that oscillator until a note is retriggered).
User interface improvements:
Keyboard pass-through (the computer keyboard will continue to play notes while the ReSynth2 window has focus)
Vastly simplified patch management:

Users can treat ReSynth instruments as normal XRNI Renoise instruments
If the user does not have the ReSynth tool installed they will still be able to play the instrument
If the user has the ReSynth tool installed then they can quickly and simply continue editing the instrument from the current parameters

'Insert new ReSynth instrument', 'Replace with ReSynth instrument' and 'Edit ReSynth instrument' menu entries in both the Main Menu 'Tools' menu and the Instrument Box context menu (under ReSynth sub-menu).
An additional Main Menu 'Tools' menu entry to open the wavetable waveforms folder with a file browser (Windows Explorer, Mac OS Finder etc.) to enable the user to populate the wavetable oscillators
If the sample editor window is visible, oscillator modifications will be displayed as they are performed
Note that ReSynth4 is not backwards compatible with earlier versions of ReSynth.
Finally, if you 'undo' a change within Renoise, please close the ReSynth2 dialog and reopen to resynchronize changes.
Discussion
Downloads
Installation: Drop the Tool File (.xrnx) on a Renoise window to install.
Liability exclusion: "You are about to download and install software from a third-party provider. This software was not developed by Renoise and is listed here in a summarised form purely as a convenience for our users. Renoise takes no responsibility for any malfunction, incompatibility, or damage caused by or otherwise arising from the use of the software. In the case of problems with the installation or use of the software, please contact the relevant developer."
Haftungsausschluss: "Sie sind dabei, eine Anwendung (Software) von einem Drittanbieter herunterzuladen oder zu installieren. Diese Software stammt nicht von Renoise und wird hier lediglich als Service für den Benutzer zusammenfassend übersichtlich dargestellt. Renoise haftet nicht für Fehlfunktionen, Beschädigungen, Inkompatibilitäten oder sonstige Schäden, die von dieser Software ausgehen oder sonst verursacht werden. Sollten während der Installation oder Benutzung der Software Probleme auftreten, wenden Sie sich bitte an den jeweiligen Hersteller."