Buy License Upgrade
Buying an upgrade means to extend your license by one major version, i.e. 1.0. So if you're licensed up until version 2.5, an upgrade will mean you're licensed for all future versions up until version 3.5. Log in to Renoise Backstage and go to your Account details / Preferences. At the bottom of the page there is a link to the Upgrade order form.
It's time to upgrade when "Account valid until" is lower than the actual Renoise version. You will be redirected to the upgrade page if you try to download a file not covered by your account.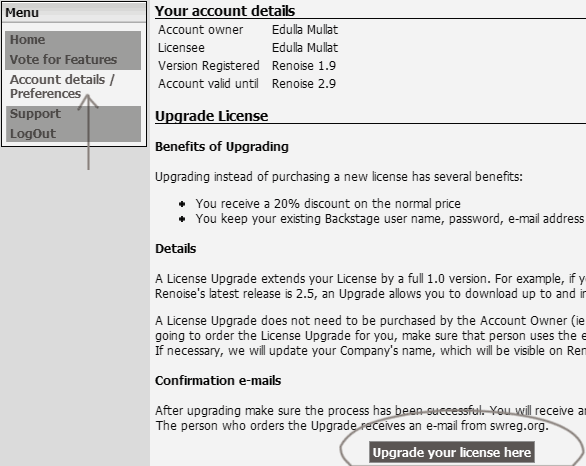 Benefits of Upgrading
Upgrading has several benefits over purchasing a new license:
You receive a discount on the normal price
You keep your existing Backstage user name, password, e-mail address and newsletter settings
Confirmation e-mails
After upgrading make sure the process has been successful. You will receive an email from renoise.com. The person who orders the Upgrade receives an e-mail from avangate.com.
Can someone else pay for my license?
Yes. The payment details used after clicking the link "Upgrade your license here" do not need to match the details registered at Renoise Backstage.
Do upgrades stack?
Yes. The upgrade system is designed to give you the best deal. It will add an upgrade to either the official version number or your account's "Version Registered" number, whichever is higher. Multiple upgrades bought at once will also add up. You can purchase multiple upgrades at once by increasing the quantity on the upgrade order form.