Simple IRC Client
Submitted by
vvoois
on September 10, 2011 - 16:40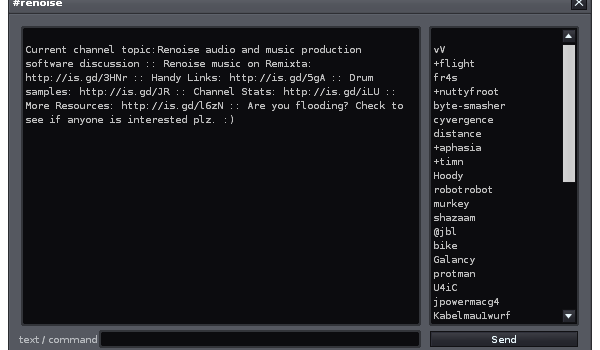 Description
Simple IRC client that allows you to chat from within Renoise.
By default logs right onto the #Renoise chat channel for you on the correct server. For generic chat, community support or co-op productions, meet with fellow Renoise users online!
The client can be started from the "Help -> Visit the community chatroom"
1.21
-Improved default hiding shortcut. (Try control pagedown /next)
Do note there is a custom assignable shortcut option in the Global -> Tools area to hide/show the IRC chat-dialog!
1.2
-Fixed issue with partial userlist
-Simplified input options which should also resolve the cumbersome non-clearing line issue.
just start typing to get any text on the line.
backspace = remove last character.
del = remove whole line.
enter is send text.
1.15
-2.7 compatibility update
-Updated keyboard routines to respond to input again.
1.13
-Fixed uncovered error 432. (using invalid characters in a username)
1.12
- Fixed error when logging on to the server hitting "enter" on the login dialog.
- Experimental hide mode added (answering the minimize request): Extra shortcut to reopen the chat dialog in Globals -> Tools -> ~Show/Hide IRC Chat, use ctrl+alt+c to hide from within the tool.
1.11
- Fixed problem where client remained nil
1.1
- Fixed bug where empty chatlines were spewed in the chat-frame.
Downloads
Installation: Drop the Tool File (.xrnx) on a Renoise window to install.
Liability exclusion: "You are about to download and install software from a third-party provider. This software was not developed by Renoise and is listed here in a summarised form purely as a convenience for our users. Renoise takes no responsibility for any malfunction, incompatibility, or damage caused by or otherwise arising from the use of the software. In the case of problems with the installation or use of the software, please contact the relevant developer."
Haftungsausschluss: "Sie sind dabei, eine Anwendung (Software) von einem Drittanbieter herunterzuladen oder zu installieren. Diese Software stammt nicht von Renoise und wird hier lediglich als Service für den Benutzer zusammenfassend übersichtlich dargestellt. Renoise haftet nicht für Fehlfunktionen, Beschädigungen, Inkompatibilitäten oder sonstige Schäden, die von dieser Software ausgehen oder sonst verursacht werden. Sollten während der Installation oder Benutzung der Software Probleme auftreten, wenden Sie sich bitte an den jeweiligen Hersteller."