Sync All Notes In Group
Submitted by
Ledger
on June 24, 2013 - 23:30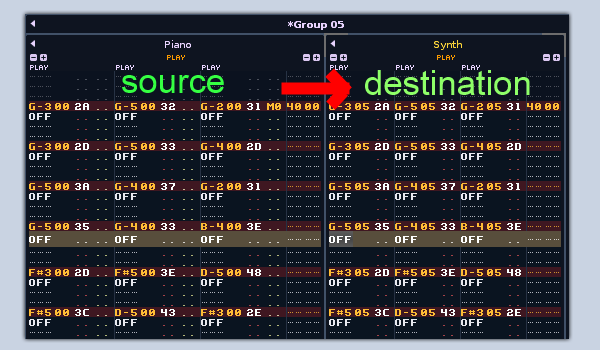 Description
This is a tool to make doubling/tripling.. tracks in your song a lot easier, allowing a quick workflow for layering sounds. It manages multiple tracks within a group to keep the same notes copied across them all. Each track retains it`s own instrument and you can add different fx and automation to each instrument layer.
How To Use:
Manually:
If you want to sync all the notes in a grouped track, simply choose one of the tracks in the group. Now choose "Sync All Notes In Group" from the tool menu under "Ledger`s Scripts" . Tracks will be synced left to right.
There is also an assignable keyboard shortcut with the same name.
Automatically:
1. From the tool menu under "Ledger`s Scripts" enable the option "Auto Sync all notes in (*) Groups Enabled"
2. Choose the track you want to double, go to the instrument list and choose the new target instrument you want as a layer. Right-click to get the instrument list menu and choose the "Create Synced Track" option. A new track will be added to the right of the original track. Both of these tracks will be added to a new group with a name like `*Group 02`. All the notes in this group will now be automatically synced, left to right.
If you want to bypass a group you can delete the star manually. A star can also be added to any other groups you already have to make them automatically sync aswell.
ALTERNATIVE UNDO
As this is a realtime tool writing to the pattern editor, unfortunately there is some unwanted native undo behaviour. To cope with this I have added a new undo shortcut that can be mapped to `ctrl z` that should not have these problems:
"Sync All Notes, Alternative Undo"
COLLAPSE SYNCED TRACKS
To help keep things tidy there is a menu entry for "Collapse All Synced Tracks". This will collapse the destination tracks in * groups. A keyboard shortcut under the same name is available.
---------------------------------------------------------------------------------------------------------------------------------------------------------
---------------------------------------------------------------------------------------------------------------------------------------------------------
--- changelog ---
1.26
Renoise 3.1 Version added
1.25
Renoise 3.0 Version added
1.23
Bug fixes with new "Only Sync Selected Group Enabled" mode
1.22
Bug fixed with new "Only Sync Selected Group Enabled" mode where changes in group tracks could fire an error
1.21
Bug fixed where non "*" groups would be auto-synced with new "Only Sync Selected Group Enabled" mode
1.2
-Option for "Only Sync Selected Group Enabled" added under "Ledger`s Scripts" / "Sync All Notes In Group".
This option means only the group with the cursor present in it will be synced. This allows the tool to work faster
when there are a lot of groups to sync. Any changes made in other synced groups may be missed when cutting selections
etc. which is the trade off.
Discussion
Downloads
Installation: Drop the Tool File (.xrnx) on a Renoise window to install.
Liability exclusion: "You are about to download and install software from a third-party provider. This software was not developed by Renoise and is listed here in a summarised form purely as a convenience for our users. Renoise takes no responsibility for any malfunction, incompatibility, or damage caused by or otherwise arising from the use of the software. In the case of problems with the installation or use of the software, please contact the relevant developer."
Haftungsausschluss: "Sie sind dabei, eine Anwendung (Software) von einem Drittanbieter herunterzuladen oder zu installieren. Diese Software stammt nicht von Renoise und wird hier lediglich als Service für den Benutzer zusammenfassend übersichtlich dargestellt. Renoise haftet nicht für Fehlfunktionen, Beschädigungen, Inkompatibilitäten oder sonstige Schäden, die von dieser Software ausgehen oder sonst verursacht werden. Sollten während der Installation oder Benutzung der Software Probleme auftreten, wenden Sie sich bitte an den jeweiligen Hersteller."