Release Notes for Renoise 2.8.0
We are proud to present a new Renoise Release. Final versions of our latest release are now available to all registered users at the Renoise Backstage, and everyone else can check out the free demo versions. Everyone is invited to join our forums to discuss the new release.
---
Full 64-bit Support
Ever since our Linux users got a 64-bit version with Renoise 2.5, we've had a lot of requests for 64-bit support on all three platforms, and now it's ready. Running the 64-bit version, the memory-hungry among you can now take full advantage of the available resources in your machine, allowing you to break the 4 GB barrier.
Renoise 2.8 also comes complete with a native plug-in bridge, allowing seamless usage of 32-bit instrument and effect plug-ins inside the 64-bit Renoise process, and vice versa.

64-bit versions for all platforms: Windows, OSX and Linux
Plug-in bridge allows 32-bit plug-ins to be used within 64-bit Renoise
Full Rewire 64-bit support
---
Reworked Pattern Matrix with Slot Aliases
Workflow has been the keyword for most of the 2.8 development cycle. Thanks to the revamped Pattern Matrix and sequencer, it's now easier than ever to arrange your songs. By aliasing individual pattern slots, you can lay out complete tracks in no time. The new sections feature allows you to add structure and overview, while the streamlined sequencer helps to keep your project nice and tidy.

Alias individual pattern slots in the matrix, i.e. treat them like clips
Edit one slot and have changes propagate to all other aliases
Quickly clone or alias slots by dragging their edges
Use section headers to group parts of the song together
---
Track Groups & Collapsing
Another big workflow improvement is track grouping, which allows you to group related tracks together, and have each group share common effect chains. It's now also possible to collapse tracks and groups, which can do wonders for the overview of large projects.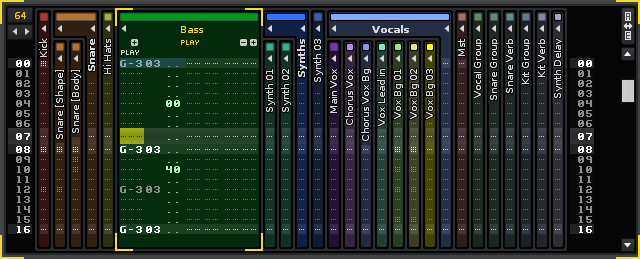 Group tracks into logical units, collapse them for better overview
Flexible routing of group tracks
Collapsed tracks use minimal space, while still providing a quick overview
Pattern effects in groups will affect all member tracks simultaneously
Automatically collapse all tracks except the one you are focussing on
Color code tracks with adjustable background colors
---
DSP Effects and Meta Devices
And what would a new Renoise release be without a few new DSP effects?
New DSP Multitap delay for spaced out filtered echo madness

New DSP Repeater for st-st-st-stuttery goodness

New DSP Exciter to make your mixes sparkle

New Meta Mixer allowing blending of modulation signals into one output

Improved EQs with bigger graphs and all values can be automated
Improved Send devices, which can now be individually panned
New and improved crossover filters for the Multi Send device
---
Sample Editor
The Sample Editor has also got its fair share of workflow improvements.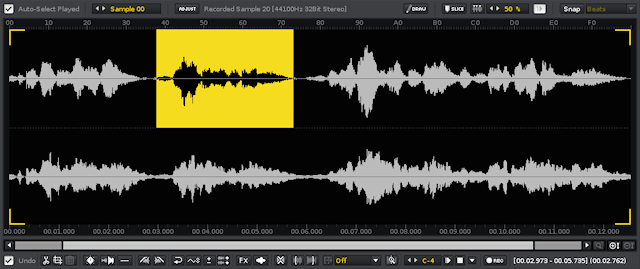 Left & right channels can be edited separately
Zoom level & current selection are remembered per sample
Significantly faster sample loading
Destructively render slices to individual samples
Improved keyboard and mouse selection handling
Improved marker and waveform display visibility
New and improved processing tools (mute selection, insert silence, invert phase, swap stereo channels and cross-fading loop creator)
---
Improved Spectrum View

New Phase Correlation Meter in Phase Scope
Side-by-side comparison of two tracks in the spectrum view
New drawing modes: Filled Curve, Bar and Spectrogram
Configurable frequency scaling, precision, peak fall rate, and slope
---
Pattern Effects
Pattern effects in the master or group tracks will affect all member tracks
Up to 34 DSP devices can be addressed via pattern commands 1xyy-Yxyy
New pattern effects: Tremolo, Auto Pan, Set Envelope Position
Logical mnemonics for pattern effects from A to Z instead of cryptic numbers
---
Performance Improvements
Hyper-threading support for new Intel i5 and i7 CPUs and others
Various audio engine speed optimizations for all platforms
---
Other Workflow Improvements
Graphical BPM/LPB/TPL automation in the Master track
New Favorites system for plug-ins and native DSP devices
Expandable and detachable Envelope Editor
Memorize last used bank/preset paths per plug-in
Automatically name rendered songs/patterns
Right-side modifier keys are no longer hard-coded
Finer control over note distribution when dragging samples into keyzones
Improved color picker with saveable swatches
Context menus overhauled and made more consistent
---
Under the Hood
Quicktime is no longer needed to import MP3 files on Windows
Plug-ins are woken up from auto-suspend when clicking on their windows
Support for mono capture devices on OSX
New Jack implementation on Linux
Trimmed overall memory footprint
---
Lua Changes
Renoise Update Checker and Tools Auto Updater are now part of the default installation
Various new Lua API bindings