ChordLord
Submitted by
eatme
on February 24, 2021 - 00:17
Description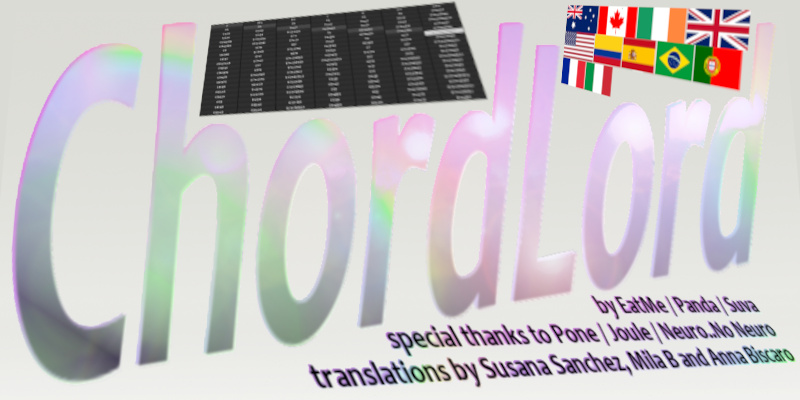 ChordLord features (v3.06.235)
..
235 types of chords..
in each scale/key/tonality..
for each possible tone/note..
selectable with buttons..
to click each possible chord in harmony.
..
Read the forum topic for info.. and open the Options in ChordLord.
https://forum.renoise.com/t/hurray-for-ChordLord/62253
..
Record mode on: record chord notes to pattern (with step edit also jumps to the next set step)..
OSC server on: preview clicked chords with selected instrument ..
..
Choose a default velocity and octave on top of the Renoise window..
also use Inversion in ChordLord to make chords lower and higher..
..
There is a Jump and Jump Up button to skip the number of set Edit Steps in the Pattern Editor without entering a chord.
The Arpeggio checkbox in the options of ChordLord will skip the set Edit Steps between each note in the Pattern Editor.
Window size can be set from 15 to 45 buttons deep. You can change the button size.
Chord complexity levels can be picked from level 0 to level 3. There are 4 modes for the arpeggio to choose from.
..
ChordLord is accessible via menu Tools... ChordLord..
..
Development by: ..
EatMe ..
Panda (pandabot) ..
Suva ..
..
Special thanks to: ..
Pone ..
Joule ..
Neuro... No Neuro ..
..
Turbo user tip: Right click the Scroll box to scroll big steps! ..
..
Forum topic: https://forum.renoise.com/t/hurray-for-ChordLord/62253 ..
English version: https://renoise.com/tools/ChordLord ..
Version en Español: https://renoise.com/tools/AcordeSenor ..
Version en Português: https://renoise.com/tools/SenhorAcordes ..
Version en Français: https://renoise.com/tools/AccordSeigneur ..
Version in Italiano: https://renoise.com/tools/AccordoSignore ..
Version in Deutsch: https://renoise.com/tools/AkkordMann ..
Discussion
Downloads
Installation: Drop the Tool File (.xrnx) on a Renoise window to install.
Liability exclusion: "You are about to download and install software from a third-party provider. This software was not developed by Renoise and is listed here in a summarised form purely as a convenience for our users. Renoise takes no responsibility for any malfunction, incompatibility, or damage caused by or otherwise arising from the use of the software. In the case of problems with the installation or use of the software, please contact the relevant developer."
Haftungsausschluss: "Sie sind dabei, eine Anwendung (Software) von einem Drittanbieter herunterzuladen oder zu installieren. Diese Software stammt nicht von Renoise und wird hier lediglich als Service für den Benutzer zusammenfassend übersichtlich dargestellt. Renoise haftet nicht für Fehlfunktionen, Beschädigungen, Inkompatibilitäten oder sonstige Schäden, die von dieser Software ausgehen oder sonst verursacht werden. Sollten während der Installation oder Benutzung der Software Probleme auftreten, wenden Sie sich bitte an den jeweiligen Hersteller."