SenhorAcordes
Submitted by
eatme
on March 16, 2021 - 17:23
Description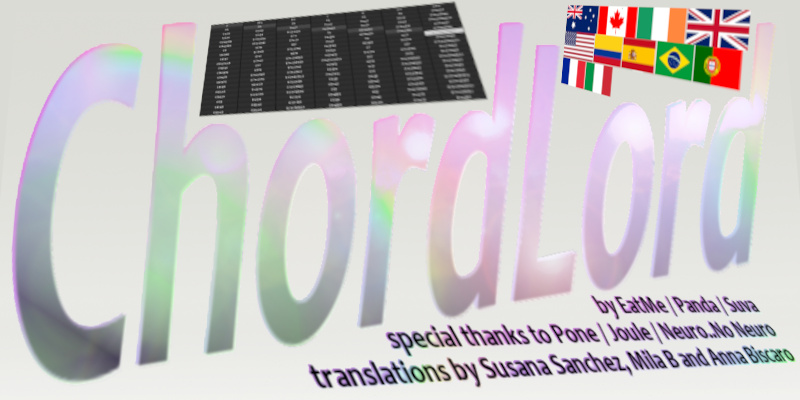 Por EatMe / Panda / Suva .. (Portuguese version - Version en Português.. Tradução para Português: Mila B) Essa ferramenta oferece acordes no editor de padrões quando o modo gravação está ligado, e mostra uma preview dos acordes usando servidor OSC na porta 8000 quando o modo gravação está desligado. SenhorACordes oferece 235 variações de acordes selecionaos em harmonia com todas as escalas/notas. **Truque turbo secreto por usuários: Clique com o mouse direito na barra e veja vários passos** Escolha uma velocidade padrão e uma oitava no topo na janela Renoise.. Use as ferramentas de inversão para fazer notas mais baixas/altas. Você também pode tentar usar o modo padrão de loop (Entrar teclado num) e reproduza o cursor desativado (Botão de bloqueio de rolagem) quando experimenta com o modo de gravação ativado (se não quiser habilitar o servidor OSC).
..
Forum topic: https://forum.renoise.com/t/hurray-for-ChordLord/62253 ..
English version: https://renoise.com/tools/ChordLord ..
Version en Español: https://renoise.com/tools/AcordeSenor ..
Version en Português: https://renoise.com/tools/SenhorAcordes ..
Version en Français: https://renoise.com/tools/AccordSeigneur ..
Version in Italiano: https://renoise.com/tools/AccordoSignore ..
Version in Deutsch: https://renoise.com/tools/AkkordMann ..
Discussion
Downloads
Installation: Drop the Tool File (.xrnx) on a Renoise window to install.
Liability exclusion: "You are about to download and install software from a third-party provider. This software was not developed by Renoise and is listed here in a summarised form purely as a convenience for our users. Renoise takes no responsibility for any malfunction, incompatibility, or damage caused by or otherwise arising from the use of the software. In the case of problems with the installation or use of the software, please contact the relevant developer."
Haftungsausschluss: "Sie sind dabei, eine Anwendung (Software) von einem Drittanbieter herunterzuladen oder zu installieren. Diese Software stammt nicht von Renoise und wird hier lediglich als Service für den Benutzer zusammenfassend übersichtlich dargestellt. Renoise haftet nicht für Fehlfunktionen, Beschädigungen, Inkompatibilitäten oder sonstige Schäden, die von dieser Software ausgehen oder sonst verursacht werden. Sollten während der Installation oder Benutzung der Software Probleme auftreten, wenden Sie sich bitte an den jeweiligen Hersteller."