Step Sequencer
Submitted by
Cie
on March 3, 2011 - 12:40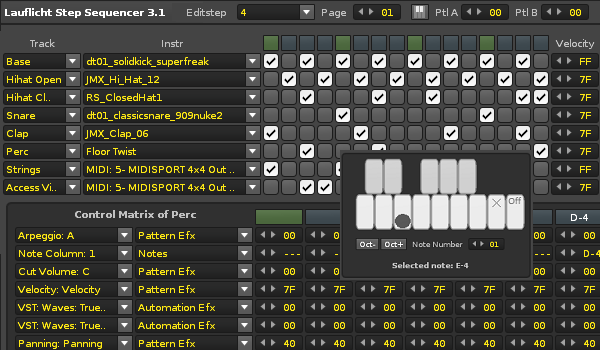 Description
A Step Sequencer is an intuitive, fast and fun possibility of editing a song. It is especially for live purposes and beat creation an excellent tool.
The "Lauflicht Step Sequencer" is a moving light, multitrack and multitimbral step sequencer. You can either begin to create a new pattern on scratch or even load the notes of a given pattern into the sequencer automatically. It has additional functions like a keyboard mode to create melodies or chords easily, a control matrix to modulate up to eight parameters of your choice for every single step of each track in real time and much more.
Features:
8, 16 or 32 steps
unlimited tracks
assign for each track a sample, sample bank, a vst instrument or a Midi instrument of your choice
change assigned instrument of a track in real time (midi controllable)
pitch whole track notes up/down (midi controllable)
set up default values for each step: velocity, delay, note values including "note OFF", note length
chord mode: insert up to 3 notes in one track
variable note resolution: 3 modes switchable (for example edit 1/2, 1/4 or 1/16 notes)
quick clear: delete all steps of a track at once
autoload: new patterns are loaded into the plugin/Launchpad display automatically on pattern change
all parameters changeable during play
midi control: All steps of each track and parameters like Editstep and Page can be controlled via midi hardware. Just open MidiMapping in Renoise to assign.
samplebank support
keyboard mode: The basic goal of the virtual keyboard is to create melodies and chords in a much more easier way. The keyboards starts with the note 'C' and reflects a complete octave range, up to the note 'B' (aka 'H'). To determine the length of a note you can use the key 'Off'.
1. create a melody: To set a note, simply press on a key on the virtual keyboard, and then on a step in the sequencer. The selected note is shown below the keyboard. To change the octave just press Oct+/Oct-.To create a melody just repeat pressing a key and a step alternating as long as you are finished.
Tip: You can also map every key of the virtual keyboard (including octave up/down buttons) to a key of a hardware midi-keyboard. So you can combine setting a note value on your midi-keyboard and push a step to set the note value.
2. to create chords: just switch to another note number below the keyboard and set the note value for every of up to three notes. If finished, click on a step in a track to set the chord.
powerful control matrix: assign up to eight parameters to every single step, like filter cutoff, delay, velocity or any other controllable parameter and change them in real-time. Also the note values of the steps can be controlled. So it is very easy and a lot of fun to change the notes of a melody while playing the pattern. Playing around with these parameters in the matrix will often give some unexpected and great results, which will boost the variety of your track. Furthermore you can assign every step of the matrix to your favorite midi-controller. With a midi-controller with at least 8 or 16 knobs (like Doepfer Pocket Dial, Korg nanoKontrol2, Behringer BCR2000 or similar) the matrix can be controlled in an excellent way.
pattern load mode: switch between up to sixteen stored patterns in real time or even mix the tracks of two different patterns.
optional Launchpad version available: supports classic Launchpad, Launchpad S and Launchpad Mini. It also supports up to four Launchpads to chain them to a huge single step sequencer (for more information please see below)
With the Lauflicht Step Sequencer Launchpad Edition, you have complete control of the whole pattern with your Launchpad(s), regardless of the pattern length and step size you have chosen. You can page through the pattern, scroll through the tracks and change the resolution modes with the buttons of the Launchpad. You can even use up to four Launchpads and connect them to a single, big step sequencer! The Launchpad Edition supports the classic Launchpad, Launchpad S and Launchpad Mini. Please have a look at the videos and my website to see chained Launchpads in action and to get more information.
Video
You can have a look at the tool in this video.
32/64 bit version
If you have a Renoise 64-bit version please download here.
If you have a Renoise 32-bit version please download below.
Discussion
Downloads
Installation: Drop the Tool File (.xrnx) on a Renoise window to install.
Liability exclusion: "You are about to download and install software from a third-party provider. This software was not developed by Renoise and is listed here in a summarised form purely as a convenience for our users. Renoise takes no responsibility for any malfunction, incompatibility, or damage caused by or otherwise arising from the use of the software. In the case of problems with the installation or use of the software, please contact the relevant developer."
Haftungsausschluss: "Sie sind dabei, eine Anwendung (Software) von einem Drittanbieter herunterzuladen oder zu installieren. Diese Software stammt nicht von Renoise und wird hier lediglich als Service für den Benutzer zusammenfassend übersichtlich dargestellt. Renoise haftet nicht für Fehlfunktionen, Beschädigungen, Inkompatibilitäten oder sonstige Schäden, die von dieser Software ausgehen oder sonst verursacht werden. Sollten während der Installation oder Benutzung der Software Probleme auftreten, wenden Sie sich bitte an den jeweiligen Hersteller."