Renoise 1.8 Final
Submitted by
taktik
on March 1, 2007 - 16:48
Our work is finally complete. Renoise 1.8 Final has gone gold. With your help we have created an exceptionally streamlined music production package.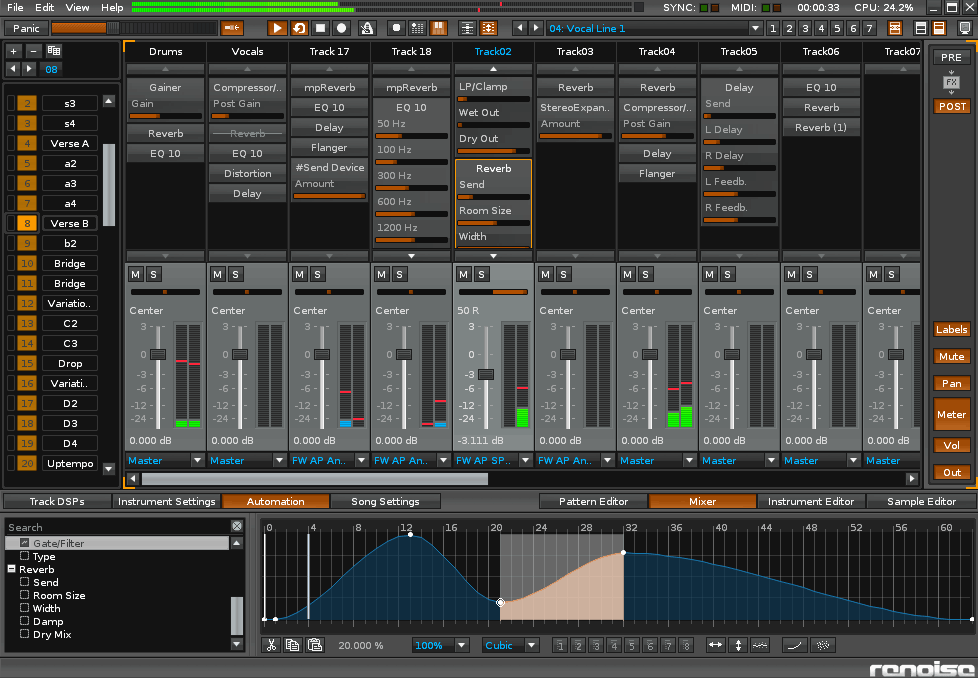 Suddenly feel the need to express your feelings? Post it in the Official 1.8 Final Release
Celebration Thread
.
Download
Renoise 1.8.0 Final
If you are a registered user, get the full version.
Renoise 1.8.0 Final Demo
The demo does not support ASIO and cannot render songs.
Highlight features
Mixer
External Audio Recording
Line-In Device
Accurate BPM
Full Undo/Redo support
XRNS, a new and open file format based on XML
Focusable GUI Components
Enhanced VST support
Quick Search functionality
FLAC, OGG, MP3 and M4A support
Read the complete
changelog
.
Latest changes in Final
Automation Points can be numerically moved
Fixes labeled [fixed]. See 1.8 Archive
Renoise 2.0?
We bet you are already wondering what the next version will bring. Discussions about the contents of future updates exist in plentiful amounts, but the first thing we will do is taking a short break. Anyway, a lot of changes have been made under the hood that will allow us release updates more frequently than before.
BeatBattle 5
We are currently preparing our traditional music competition BeatBattle. There are some interesting changes to the rules that will test your skills more than ever. The official announcement will follow soon, so be prepared.
Closing words
A big thanks to all who helped testing the 1.8 beta and RC releases. Renoise 1.8 evolved a lot thanks to your reports and suggestions. We hope you enjoy Renoise 1.8. The Renoise team