Immortal Empire - Renoise Music Competition
Submitted by
bantai
on February 2, 2009 - 00:29
Update: Song downloads
To celebrate the launch of Renoise 2.0, the teams from Renoise and Tactic Studios are announcing the start of the official Immortal Empire - Renoise Music Competition. The objective of the competition is to score music for the upcoming MMORPG Immortal Empire. The game is a turn-based strategic RPG set in a fantasy world.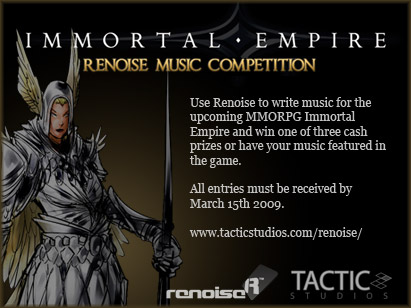 The entries will be judged by Tactic Studios' development team. Any song submitted may be used in the final product of the game, so this is a chance for your music to be exposed to a large audience. If you make it to the top 3, you will win up to $300 in cash.
The kind of music we are looking for is Orchestral or Progressive Orchestral.  To get an idea of the kind of thing we want,  check out the background music of games such as Diablo, Baldur's Gate 2, StarCraft and Mass Effect.
The competition will close on March 15th 2009.
Visit the Immortal Empire Renoise Music Competition Website for more information.
Renoise 2.0 Beta Music Competition Results