Renoise 2 Beta 5 and second round of the Beta Music Compo
Submitted by
bantai
on October 30, 2008 - 17:48
Renoise 2 Beta 5 is now available for all registered users. This will be the last Beta before moving on to the first public Release Candidate. Beta 5 contains several fixes and new features. For a detailed overview of the new features in Renoise 2 check out the What's New section.
The Renoise 2 Beta Music Competition has been extended with a 2nd round. Congratulations to the contestants so far. The first round's winner is Mr. Mark Dollin's song Ghost Debts. It's pretty unique and innovative. At only 66 KB it will barely increase Renoise's install package.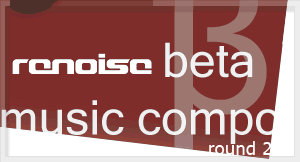 See the Beta Music Competition page for more info and the updated rules for round 2. The compo deadline is planned on the same day as the first public Release Candidate of Renoise 2.0. If you are not a registered user that will be day you can finally get your hands on a free demo of the new Renoise. Anyway, send in your song before the deadline: Monday 17 November 23:00 GMT. and keep it below 5000 KB.