Renoise 2 Beta Music Competition
Submitted by
bantai
on October 14, 2008 - 00:27
Renoise 2.0 is shaping up quite nicely. Its new timing features help you get a more natural and organic sound. But, we need a really good demo song for when Renoise 2 goes public. One that makes you say: "Wow, that wasn't possible with Renoise before!"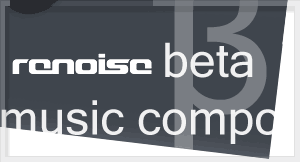 Because we want to have the demo song before the first public demo of Renoise 2, we have started the Renoise 2 Beta Music Competition for registered users.
Send in your song before the deadline: Sunday 26 October 23:00 GMT.
If you are not a registered user, don't panic. There will be a public BeatBattle when Renoise 2 is finished. Ofcourse, you could also order a license and join the Beta compo as well.